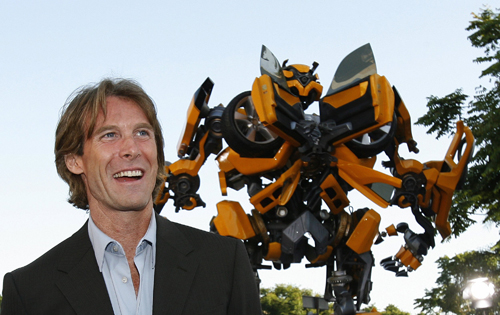 And thank god for that. I don't think I have the constitution to withstand it.
Here
:
Why would a robot need to fart, pee, or vomit? And why would it need testicles?
Michael Bay does not understand what a robot is.
...
Why can only a Prime kill the Fallen? Why can Jetfire teleport? Why can the Fallen wave a staff and make shit fly around? Why do actual cars and Autobots get sucked into Devastator's maw, but John Turturro and that other kid can run around?
Because... because FUCK YOU, that's why.
....
If you had to pick a single scene that exemplifies Michael Bay's utter disdain for story and continuity, what would it be?
When five Decepticons sink to the bottom of the ocean to retrieve Megatron's corpse. A submarine tracks five "subjects" going down, and when they get there, one of the Decepticons is killed to give parts to Megatron. 5 -1 +1 = 5, right? No, because the sub somehow tracks "six" subjects coming up. Not only is this very basic math, this is the simplest of script errors. It could not possibly have been more than one page apart in the script. And yet Michael Bay either didn't care to notice or didn't give a fuck. "Math? Math is for pussies. My movies are about shit blowing up, man."
...
Could you sum up the film in one line of its dialogue?
"I am standing directly beneath the enemy's scrotum."